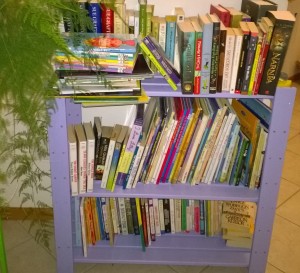 Tonight was my birthday party. About 40 people came to my house to hear live music by The Castaways who were as awesome on their ukuleles as most bands want to be on their bigger instruments. As they say, size doesn't matter. They came to eat. The coconut cake from PCC was perhaps the biggest hit, although the chocolate mousse cake and  all the food that came on skewers disappeared quickly. The pinata died on the fourth person. The teenagers took some of the odder flavors of Pop-Rock type candy — dill pickle and bacon, for instance, thanks to the ingenuity of Archie McPhee — and did experiments with soda water. They wanted to put the candy in flat water and then run it through the Soda Stream machine in my kitchen, but I stopped that from happening. Science is one thing. A kitchen that smells like pickles and bacon for eternity is quite another.
But the night wasn't just about my birthday or about partying. I used it as a method of collecting books for one of my favorite organizations, Treehouse, which assists foster kids by providing funds for extras like music or dance lessons, summer camp or extracurricular activity fees, or dues for clubs and organizations like scouts. They also have a store where kids can shop for stylish clothes five times a year, with a bonus visit in December. They are limited in what they can get — everything except books. They can take as many of those as they want.
So for my birthday I asked friends and family to forgo gifts for me and buy some books for kids who might not know the joy of creating a growing library of their own. And boy did they come through. I had books sent to me from as far away as Canada. I had people send gift cards so I could buy books. And I had friends and neighbors and relatives bring books to my party. The picture above shows what showed up on Saturday evening. The top shelf is double stacked, so you can't really tell. But that's 12 shelf-feet of books!
Thanks to all of you who participated. If you didn't and are so moved, please click on the Treehouse link and find a way to donate that works for you.
One more request: Think about books and reading and what it has meant to you in your life, what it means to you now. Write a few words in the comment section. I'm putting some of those thoughts together for Treehouse in a collage. Or find a quote from someone else (please attribute it if it's not yours) that resonates with you and use that as a comment. Ask your friends and relatives, too.
Thanks!