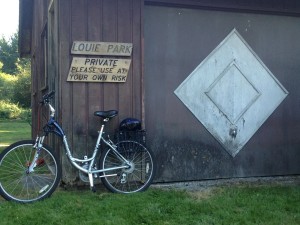 I spent this evening hanging out with the extended neighborhood. We were remembering one of the most colorful of our number, Jack McPherson, who died a couple weeks ago after a brave battle with cancer. A few score people showed up with food and drink and stories tonight. Most were from the immediate neighborhood, but some came from further afield, including his former girlfriend, with whom he stayed very close even after the romance was over. His kids were there, too.
Jack graduated from Lake Washington High School, not three blocks from the house he lived in for the bulk of his 76 years. He loved dogs. He sang with a barbershop quartet. He liked Gunsmoke. He owned more tools than a single man needed, but happily, the wider community was around to justify the fact that he had them in his garage. He would help anyone who asked for it. He had a wicked sense of humor that extended to trying to abscond with a neighbor's vintage car when it was left unattended for a moment. His favorite saying? The eight words at the top of this post.
I didn't know that much about Jack before tonight. What I knew was that he had the most bow-legged gait I've ever seen. I walked about a block behind Jack on many mornings, me with my dog, him with his stick. I didn't see him for a few months when he was sick. One day, I walked a block behind a skinny guy I didn't recognize. Except for the bow legs. It was Jack, in the midst of his cancer battle.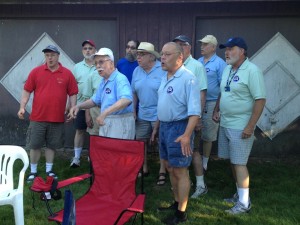 The other thing I knew about Jack was he had a dog named Louie who died a few years back. Louie was a curly coated chocolate colored retriever of some sort. When I met Louie, he was already old. And every time someone asked Jack how old Louie was when he died, the dog got a year older. The neighborhood seems to think he was about 18. Jack loved that dog, and he named the vacant lot across from his house Louie Park. Everyone in the neighborhood knows Louie Park. There's a bench there that Jack built to sit on and accost people as they walked by. You were meant to stop and chat with him. There is a fire pit. A barn. A picnic table. The land is mostly wetland, and unsuitable for more than one house — not worth it for a developer, and Jack said he valued the space as a neighborhood communal spot more than he would value the money.
There is hope in the neighborhood that it will become an official park, and a petition was going around at the memorial pot luck tonight. It's a favorite place for dogs and their people. In the winter, half of it is a swampy muddy mess. Like I said, a favorite place for dogs. It's also one of the homes of the local coyote couple. At least one cat has met its demise there. Ruby killed a bunny at Louie Park. (Don't be upset: it was a stupid bunny that escaped and then came back out to gloat.)
I live around the corner from Louie Park, and am sad that I didn't know Jack like the people on his street did. I'm sad that I didn't make an effort to catch up with him when I walked behind him. I know some of you, my 20 loyal readers, will scoff, but I can be shy, and I often felt — still feel — that there is an established hierarchy of neighbors here, and having come here only 13 years ago, I haven't got the street cred to talk with knowledge to and of the people who have been here for decades.
But if there one thing a death will do it is make you re-evaluate the way you do things. So I will learn more names, more history. I will say hello not just to the dogs (Georia, Miley, Hudson, Manny, Lizzy, Louie, Lucy), but the people (Larry, Rosie, Amanda, James, sweet Calla, Joy, Bob, Carol). I will not walk behind and marvel at the bow of a man's legs or in a girl's hair. I will make an effort to walk beside.
Godspeed Jack. You will be missed.