September 7th, 2012 § 2 Comments
I read about this house in the Seattle Times yesterday and decided I had to go see it for myself. So after Mr. Right Now and I delivered Darling Son to the Wasband, walked the dog around Green Lake, and had some dinner at Latona Pub, we found the place, got out and took some pictures.
And I'll I'm going to do is post them, because really, there's not a lot you can say about a house that has been covered in a house-cozy made from afghans bought from a handful and a half Goodwill stores in Seattle. Aside from I'd have got better pictures, but the house is surrounded by a chain link fence. And it was night.
You can see it yourself at 425 15th Avenue E, on Capitol Hill across from the QFC. Take better shots and send them to me so I can upload something that does this art justice, okay?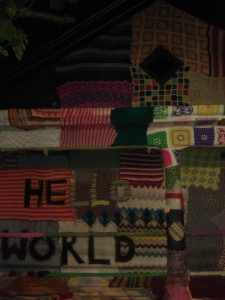 § 2 Responses to Now this is a big knitting project